LEADING Media: Interface for TV-Spot-Import
The question: What to do if the Swiss advertising marketer Goldbach wants to integrate its TV spots into the LEADING Media System? The answer: Program the interface! All Swiss LEADING Media customers benefit from the web interface for importing TV commercials.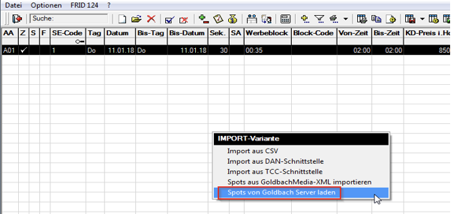 What are the new interface features?
Import TV commercials
Import invoices for TV spots and assign them to the respective spots
free of charge for all LEADING Media customers
Making life easier for customers: This was achieved by Qualiant in cooperation with Goldbach Media, one of the largest marketers of television advertising in Switzerland. In a very short time, a web interface was programmed with which TV commercials and the corresponding invoices can be imported into the LEADING Media media purchasing tool with just a few clicks.
The national roll-out in Switzerland started in the summer of 2019. In the meantime, all major media agencies in the country can access the functionalities of the Goldbach interface. The advantages of the new web interface are available free of charge to all LEADING Media customers.
Would you like to know how the Goldbach interface works? Click here for the Manual for the TV Spot Interface at Goldbach.
Contact LEADING Media Support
You have questions about an update of LEADING Media? You have discovered a problem with the current version? Talk to us! Here is your direct line to LEADING Media Support:
+43 1 503 6644
_______________________________________
This document is a non-binding customer information. There can be no warranties or commitments derived from this release note.
The contained topics represent the status quo of Qualiant Software at the date of publication. Modifications and additions at a later date are possible.
The content of this release note may not be understood as a part of the licensing agreement. Qualiant Software assumes no liability for the correctness and completeness of this release note.