Effective digital campaign planning: The power of target groups and reach data
Reach studies are the indispensable data basis for agencies to plan digital advertising. In proDigi, you can integrate the reach and target group data available in your agency right away in the planning phase.
Curious? Then sign up now for a free trial month and see for yourself the advantages proDigi offers!
In the world of digital advertising, thorough planning is essential. But which reach studies are part of your standard repertoire? In Austria, people rely on the ÖWA's web analysis, while in Germany, the AGMA's daily digital facts and in Switzerland, Mediapulse's Online Data provide the online media data.
In this article we will show you how to use ÖWA data to plan an effective digital campaign. But don't worry if you have access to other online media data, because proDigi allows you to integrate diverse data sources.
Step 1: Access to ÖWA reach data
Open your digital campaign in which you want to collect the key performance indicators via the "Planning/Dispo" and "Campaign Management" tab. Click on the button "ÖWA".
Step 2: Publisher allocation
To integrate the study data into your campaign, it is necessary to match the study's publishers with the publishers of your planned positions. Note that the agency's internal terminology may differ from that in the study data.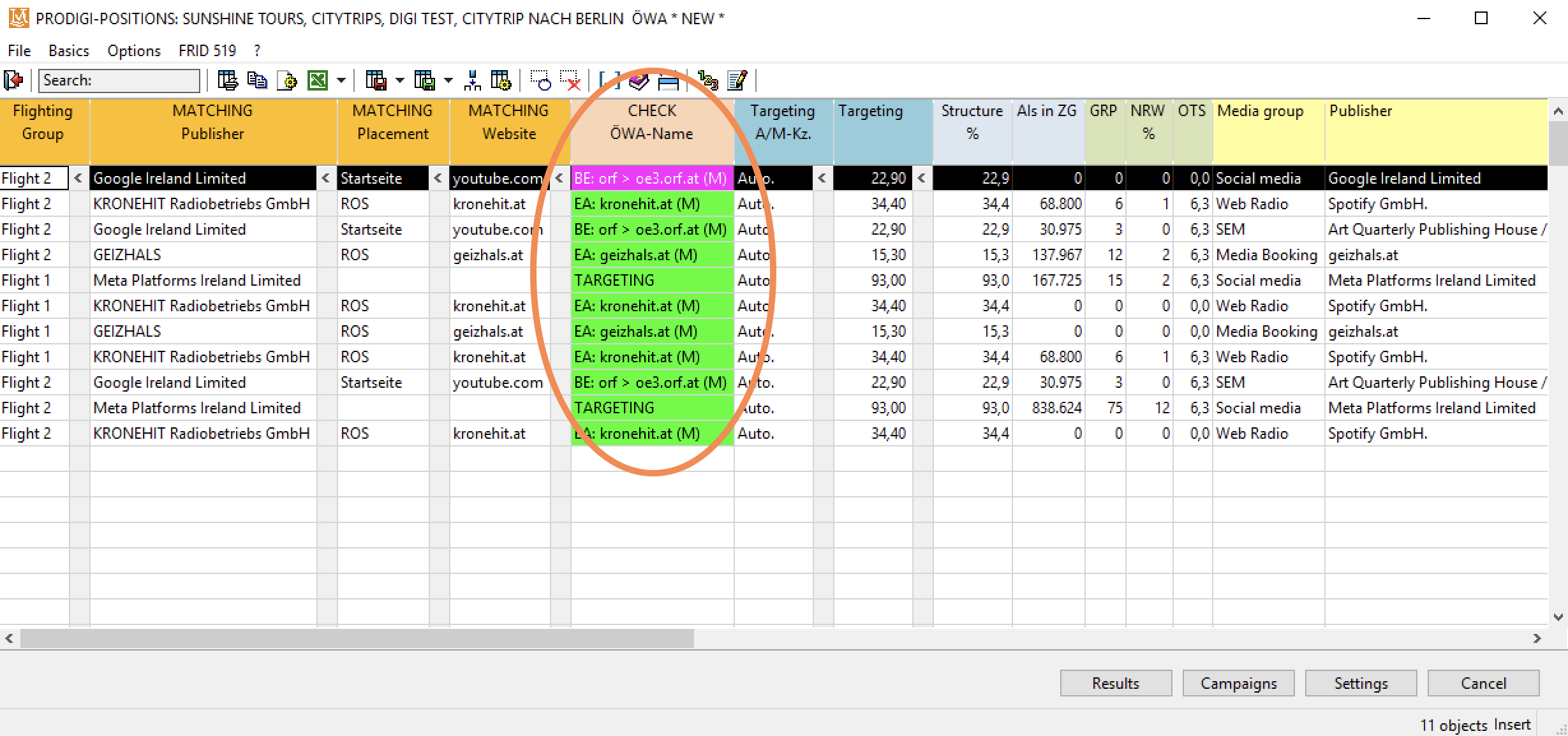 Step 3: Target group specification
Under the "Settings" section you can now set the target group data. Let's say you are planning a campaign for women aged 20 to 39. As known from counting programmes like Zervice, here you see the potential of this target group. In our example, that would be 1 million 114 thousand.
Below you define the number and names of the flights in your campaign. Save your settings.
Step 4: Flights and positions
In the left column, you now assign the individual positions to the different flights. Our example campaign is divided into two flights. If necessary, you can add further campaigns for the reach analysis via the "Campaigns" button.
Step 5: Results and key figures
For each position, important key figures such as gross reach point, net reach and opportunities to see are now listed. To see the results for individual flights and the overall campaign, click on "Results". Here you get a clear overview of the generated ad impressions, unique clients and the reach of the campaign.
Step 6: Data export

Finally, you can easily export all this valuable data as an Excel sheet.
If you too would like to keep an eye on your most important KPIs for every digital campaign, don't hesitate to contact us. We adapt the integration of target group data to your individual needs and existing data. This makes the planning and optimisation of your digital campaigns more effective than ever before.
Video tutorial
You can find detailed instructions on how to use the ÖWA data in this video:
Register now for free trial period
Does that sound interesting to you? Then register for a free trial month without any obligations.