Committed to your protection: The Qualiant Full Recovery Test
You know Murphy's Law? Everything that can go wrong, will go wrong? Every responsible entrepreneur attaches great importance to the security of his IT infrastructure. But what if the disaster really strikes and the backup processes provided for it are malfunctioning or ineffective?
Exactly for such cases Qualiant offers all customers an exclusive service: The Full Recovery Test by Qualiant.
This ensures the availability of the digital infrastructure and the complete recovery of data even in the worst case scenario.
You work with LEADING Job and/or LEADING Media and operate your database servers yourself? Then you should definitely think about a Full Recovery Test by Qualiant to better secure your data.
And unexpectedly, the worst case scenario is here...
Can't happen to me, you think? Then you'd better not read any further. The following four incidents have actually happened to our customers in recent years:
The failure of a database server described as "completely fail-safe" came as a surprise. Unfortunately the disk mirroring did not work. 
The most recent usable backup was nine months old, all newer data were irretrievably lost.

Cyber attack against WPP's servers and networks (Link to Adweek article)
Only by chance was it discovered that the daily backups had not been made for six weeks. The reason was a faulty update of the backup tool. Unfortunately, this was neither checked nor reported by anyone. 
Fortunately no data loss occurred.
A database server was running in a virtual machine and its snapshots were backed up daily. After a disk failure, the server collapsed. 
Only now did it become apparent that only worthless snapshots had been backed up to tape for years. 
Those backups were never checked and were unfortunately all unusable. 
This rare combination led to the total loss of the agency's data.
All these disasters have one thing in common: with a full recovery test they could have been prevented or the damage could at least have been minimised.
The Full Recovery Test: the rescue shield for your data
Let's assume that after a catastrophic event (e.g. fire, cyber attack or technical defects of your database server) parts of the IT infrastructure fail. The replacement hardware must be procured at short notice. Only then can we start installing the various software systems and finally restore the latest backup.
However, this chain of action will only work with a valid backup, which itself must not be affected by the disaster.
There is only one way to ensure a successful recovery: regular and complete testing of the backups. Here it makes sense if the manufacturer of your business-critical software takes care that your backups work.
FAQs
Don't you need a free server for this test?
No, you can have the Full Recovery Test carried out by us without the need for additional servers or database experts.
When and how often should I check?
Global networks require their agencies to carry out regular disaster recovery tests - usually annually or quarterly.
We recommend having the full recovery test carried out at least once. After changes to the server configuration, you should arrange for another test to be carried out.
What types of Full Recovery Test do we offer?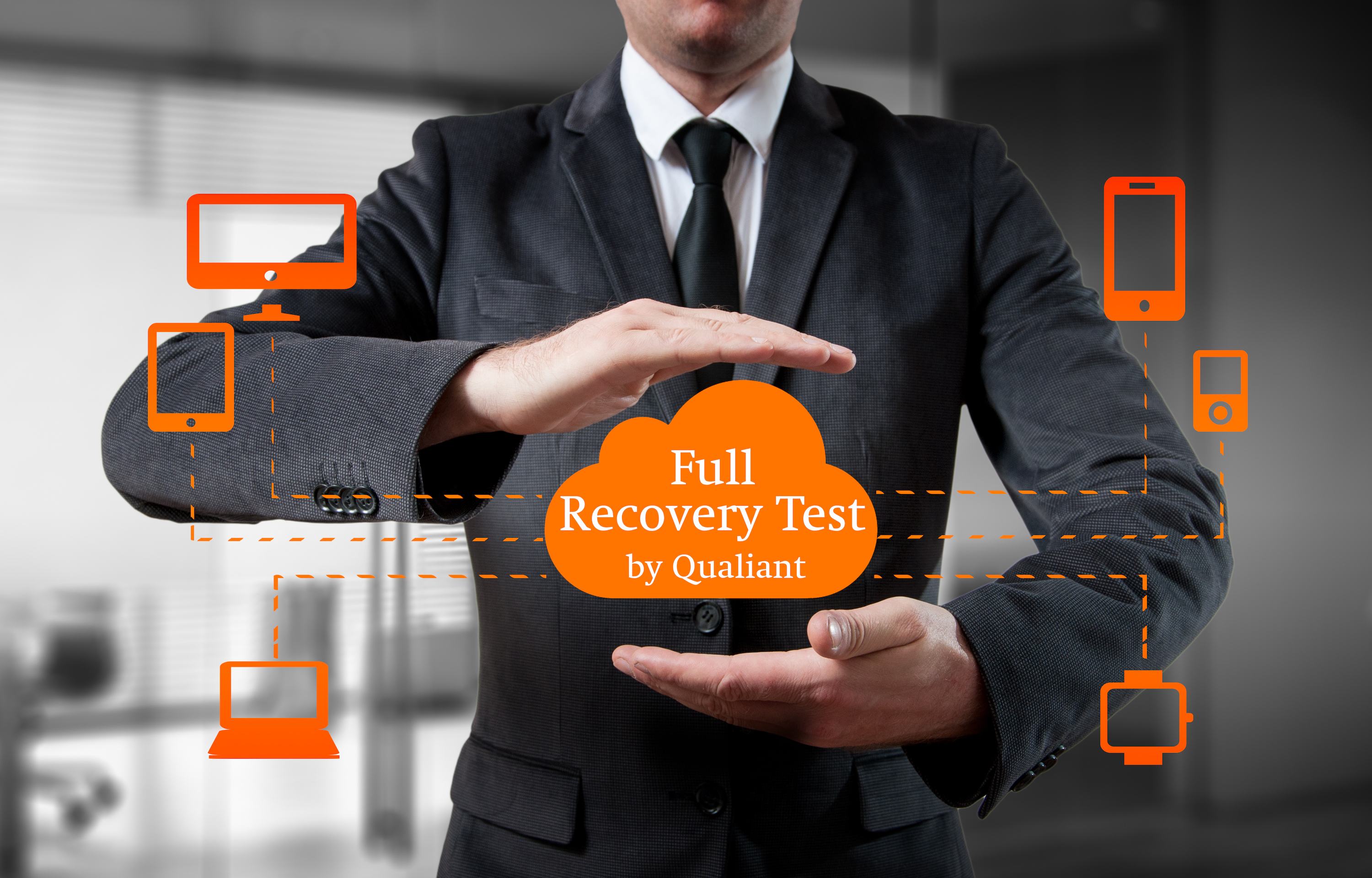 A physical full recovery test documents that the software could be installed, the data backup was readable and the restore went off without error messages.
A logical full recovery test is much more meaningful because it also determines whether the data was restored completely and consistently.
A random test is used for this: a comprehensive and relevant report is generated twice, before the backup and after the restore. Consistent results allow logical completeness to be verified with a high degree of certainty. This evaluation can be carried out either by us or by people from your company.
Does the Full Recovery Test by Qualiant interfere with daily business?
Our test has no influence on your daily business or your regular IT infrastructure and can therefore be performed at any time.
What does the test result mean for you?
Regardless of the result of the Full Recovery Tests, you have won in any case: With such a test, you ensure that you can rely on your backups in an emergency. Or you find and eliminate previously undiscovered weaknesses in your backup process.
Should you ever have an emergency, you now also know that we can provide you with our replacement servers for your daily business until you have rebuilt your own infrastructure.